Welcome to the second installment of
South Seas Cinema
, a new series of posts about films set in – or pertaining to – Polynesia and the South Pacific.
Voodoo Island (1957)
If the idea of Boris Karloff with a tan intrigues you, then you're bound to enjoy the camp 1950's horror film, Voodoo Island. More deeply intriguing is why Karloff - already a renown actor with dozens of major films under his belt - chose to be in this B-movie.

Perhaps he wanted a working vacation in Hawaii. Shot entirely on Kauai, Voodoo Island is set on a South Pacific island, where man-eating carnivorous plants and zombies are making things difficult for a wealthy developer bent on creating a luxury resort. How the west African/Caribbean practices of Vodoun made it to this mythical Polynesian island is anyone's guess.

Initially, I fretted that such incongruity would create too unbelievable a story to follow. But, with a theremin-heavy original score by exotica legend Les Baxter, I found it easy to kick back and enjoy Voodoo Island on its own terms;
Lots of tiki (toward the end of the film), thatched huts, swinging bridges, tapa cloth, and Kauai's lush beauty helped too.


Voodoo Island is not a great movie, but it is fun to watch. For my part, I was curious to see a zombie movie set in Polynesia (just in time for Zombruary!). My albeit low expectations were exceeded and I have a feeling that a repeat viewing is nigh.

Voodoo Island is available on a two-for-one DVD along with The Four Skulls of Jonathan Drake.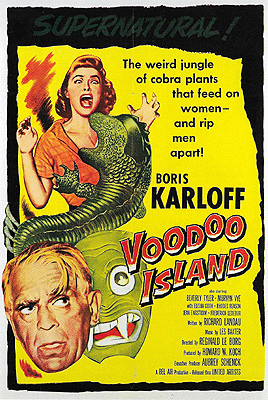 Zombruary 2007 is sponsored by
Tiki Racer
.
South Seas Cinema is sponsored by
DESIGNinBLUE
architecture&design
mail@designinblue.com
+44 20 (0) 7947 359 456
+44 20 (0) 7950 674 636