Looks like Chongolio and crew are about to experience a whole mess of
Zombruary
troubles!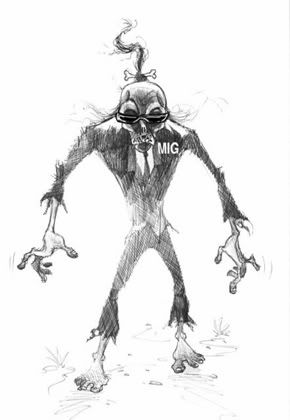 ZIG (Zombie in Gray) sketch done by
Brad "Tiki Shark" Parker
for Coconut Wired #12
Coconut Wired Adventure #12: Not Over Till It's Over


Brad "Tiki Shark" Parker
managed to infiltrate the MIG secret laboratories and get a sketch of the MIG's new secret weapon the ZIGs (Zombie in Grey suits.) Those evil monsters are now attempting to use the dead to carry out their vile plans of island domination. Things are not lookin' good for Coconut Wired crew, the future of our island paradise and the people and creatures who inhabit them.

Click
here
to listen to the sonic surf, tropical tunes and exotic ambiance of the latest
Coconut Wired
episode.
Zombruary 2007 is sponsored by
Tiki Racer
.