For the second post in my New Music Showcase series, I'm happy to let readers in on a little secret: Worcester, Massachusetts is home to some of the best experimental music out there, and it's all because four musicians collectively known as the Pandas happen to reside there.






















I've been enjoying the Panda's second album, Solutions, for awhile now and have come to the conclusion that it is one of the most intelligent and subtly provocative mix of songs that I've heard in years. It's engaging without getting 'in your face' and clever without a trace of pretense. In fact, with its charismatic melodies, steady rhythm and aural intensity, Solutions is downright seductive.

More than songwriting, the Pandas' approach to music might be better described as layering "raw lo-fi dissonance, melodic hooks, and mechanical loops" to create minimalist soundscapes. Much as a great photograph captures a truer essence of its subject than the naked eye ever could, the Pandas' songs distill sound to its aural essence.

Solutions reminds me of the best of psychedelic and progression rock minus any histrionics, unnecessary noodling or psycho-babble blather. The album's eight instrumental songs interact in such a way as to suggest a genuine love of sound. Loops, samples and sythesized noises blend comfortably with more organic textures such as guitar, melodica and glockenspiel. The result? Approachable music that soothes like Jobim, insinuates like Morricone, plays like Esquivel, and reasons like Stereolab. Click here to purchase Solutions online.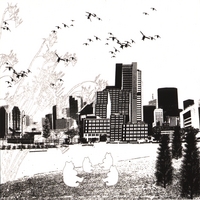 Visit www.pandaphonics.com for more info.
Click here for the Pandas on MySpace.

Here's a short snippet of a recent Pandas performance: